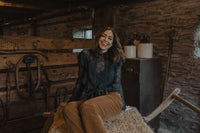 Our Products
Hair Jewels by Nicole Cyrese are customized, hand designed fashion forward hair jewelry .
Each piece is embellished with sustainably sourced crystals from Austria.

Each Hair Jewel is ethnically sourced and designed to wear for all hair textures.

"Shine Brighter in the world. Feel the Best you wherever life takes you .Your energy is magic!"

See More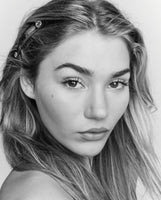 Eight Hair Clip
The Eight Collection consist of eight designs of cushion cut Austrian crystals available on brown and black satin ribbon snap clips. They look fantastic in the hair paired together or worn alone casual chic or for any special occasion .
Shop Here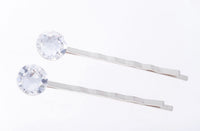 Unity Large Bobby Pin Set
Our Large Unity Austrian Crystal Bobby Pin Sets are made on metal plated rose gold, gold and silver bobby pins. They wear comfortably, look magnificent in the hair worn  casually chic and for all occasions!
Shop Here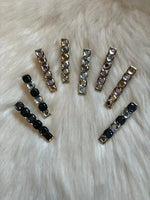 April March Hair Clip
Crystals Designed in Two Shades on an alligator hair clip plated in a champagne satin finish, sustainable for all hair textures. All of the designs wear beautifully in the hair casually chic or for any special occasion. 
Stand out from the crowd with your style of choice!
Shop Here
Bella Barrette
Our Bella Barrette has hexagon crystal on a skinny barrette with luxe black satin ribbon. This is the perfect barrette to wear for any hairstyle of choice anywhere you go ! This is also the ideal hair jewel for the minimalist or for anyone who wants to add sparkle in their hair for an occasion. The hexagon crystal is a unique modern cut of crystal that makes a statement and is original.
Shop Here
Connect with us on Instagram
Testimonials
"I love the modern design and how they're beutifully crafted with care. The luxe feel of the metals paired with the classic style makes these timeless for any discerning woman that loves fashion accessories."

Donna Tilery, Founder of New Jersey Fashion Week
"Nicole Cyrese has a beautiful line of hair jewelry, including fine quality in jeweled headbands. She's not only on point with on-trend hairstyles but just as much with her hair jewels. Her hair clips are a comfortable wear in the hair. I receive many compliments when I style my hair with her jewels."

April March (Burlesque Legend)
" I have the Black Diamond Swarovski Crystal on a gold plated metal bobby pin, and I love it! The quality is amazing and the Swarovski crystal are so beautiful. Its the perfect hair accessory to spice up any hairstyle."

Marisa Mastroianni
" I have had my hair jewels for almost a year now, and they have held up quite well. I am always on the go which means at times, I throw my pieces in a bag and hope for the best. With all the oils I put inmy hair, and constan rushing; Nicole;s hair jewels are perfectly intact. The material have not bugged or stained, which makes me an automatic repeat customer. Quality wins every time.

Chimere Williams, Author
"Beautiful, classy, stylish, and most important practical! Amazing design, and quality!"

Elena Startison, Model
"I can't express enough how  thrilled I was to receive my gold moon-shaped hair jewel! The piece sparkles just beautifully, and is so eye-catching! Nicole Cyrese's design is so unique and it is easy to see how extremely well-constructed the pin is. It's easily the most beautiful hair accessory I own, and plan to wear often."

Lauren Smith
"I received my beautiful moon clip from Nicole in such a timely manner. This sparky piece is such a touch of elegance and playfulness all in one. It definitely brings out my inner goddess when I clip it on! So Grateful for this gem, and Nicole for making this gorgeous piece!"

Robyn Spieler, Reiki and Rouge
"Nicole's beautiful hair accessories are made with perfection. Not only are they stylish and on trend but they set the woman apart in today's fashion game."

Cara Brown Designs
"Nicole Cyrese has a lovely collection of Hair Jewels. Her designs include original and modern trends in hair accessories. I'm in love with the detail in design she's included with Swarovski crystals in her first collection, Unity."

Cyrese Sciandra